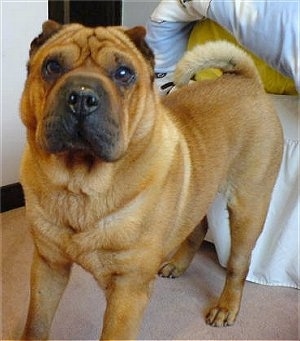 I did a ride out in Katy again today. Cold, cloudy, windy. No matter how fast you spun, your legs never really warmed up.. it chilled you to the bone. At the rest stop, the guy organizing the ride advised everyone to take the short route back because the headwind.. so I did (36 miles).
The ride back was easy because there was a nice tailwind to help me along. When I got to Brookshire, I saw one of those houses on the side of the road that stands alone, has no fence around its yard and has a child's toys everywhere. I saw a big dog that resembled a sharpei coming at me like a T-Bone. So I went to the car lane and sped up knowing what I was in for. That bitch was fast.
I had to hit about 23 mph before I lost the thing and it still got right on my tail. I warned some others coming the other way to watch out, and who knows how many more people it chased taking the same route behind me.
My first instinct was to go into the car lane without looking and speed up. I was lucky no car was coming behind me. That would have spelled disaster. I owe my thanks to something today!